Shared Image: 1,200 x 630
A shared image is one of the most common forms of sharing on Facebook. These images will always appear on your timeline, and ideally they will show up in most of your followers' News Feeds — though with the decrease in organic reach, it's unlikely that everyone will see your post. The more people engage with your post, the more likely it is that the rest of your followers and their followers will see that activity.
Image Guidelines
Recommended upload size of 1,200 x 630 pixels.
Will appear in feed at a max width of 470 pixels (will scale to a max of 1:1).
Will appear on page at a max width of 504 pixels (will scale to a max of 1:1).
Shared Link: 1,200 x 628
Another great tool in your Facebook belt is the ability to share a link. It's very similar to posting a shared image, but it gives you even more fields to work with. You can choose to create a shared link with a small square image to the left and text on the right, or with a larger rectangular image on top with text underneath.
Image Guidelines
Recommended upload size of 1,200 x 628 pixels.
Square Photo: Minimum 154 x 154px in feed.
Square Photo: Minimum 116 x 116 on page.
Rectangular Photo: Minimum 470 x 246 pixels in feed.
Rectangular Photo: Minimum 484 x 252 on page.
Facebook will scale photos under the minimum dimensions. For better results, increase image resolution at the same scale as the minimum size.
Highlighted Image: 1,200 x 717 (Recommended)
Did your company turn its first profit? Hit its 10th, 20th or 100th employee? A milestone is a great time to create a highlighted image. This image is going to be housed on your personal timeline, but it is going to take up a great deal more space than a shared link or image, so it's a good place to celebrate the victories that keep you going!
Image Guidelines
Will appear on your page at 843 x 504 pixels.
Choose a higher resolution at that scale for better quality.
Single Photo on the Timeline
When you upload an image to the timeline, a thumbnail is generated automatically to fit within a box that is 500px wide and up to 750px tall. So if you want to use the maximum space available, upload an image in portrait orientation (vertical) that is in the ratio of 3:2. This is an example of using the maximum available space:
If you upload a landscape (horizontal) image, it will be scaled to 500px wide and retain its shape. The full area of the image appears without any cropping.
This is another rectangle in landscape orientation, but it's a much narrower aspect ratio like a banner or panorama. The width is again 500px and the image is scaled so that the entire image area appears.
If you upload that same image rotated 90 degrees, so that it's tall rather than wide, it will be cropped to the maximum available area of 500px by 750px.
And if you upload a square, the whole image will be displayed, with the width at 500px.
Ideal Facebook image sizes
Sharing images: 1,200 x 628 pixels
Sharing links with an image: 1,200 x 628 pixels
Sharing images – 1,200 x 628 pixels
Whether you're sharing landscape, portrait, or square images, Facebook will resize it to 500 pixels wide and scale the height accordingly.
The good news here is that you don't have to worry about your image size when sharing images to Facebook! Almost all images will look great on your audience's News Feed. (I used "almost" because Facebook seems to still require an aspect ratio between 9:16 to 16:9 — which is a huge range.)
To keep things simple, I'll recommend creating images that are 1,200 pixels wide by 628 pixels tall. This is the ideal size for images in link preview, as you'll read next. Of course, if you want to share a vertical image, that's totally cool, too!
Sharing links with an image – 1,200 x 628 pixels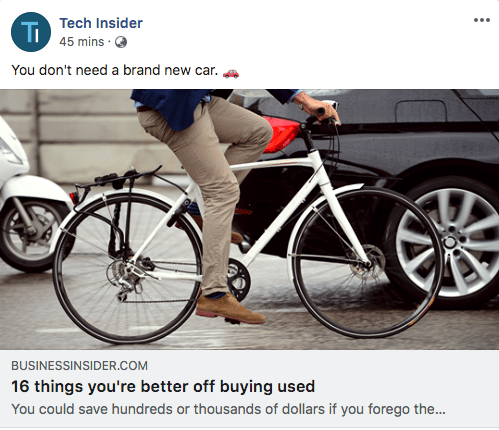 When you share a link to Facebook, Facebook will show an image in the link preview. Facebook looks at the Open Graph tags for the link, specifically the og:image tag, which specifies the image that Facebook should use when sharing in the News Feed.